2/15/2019 - Check back again later this month for 
 news about our 2019 growing season.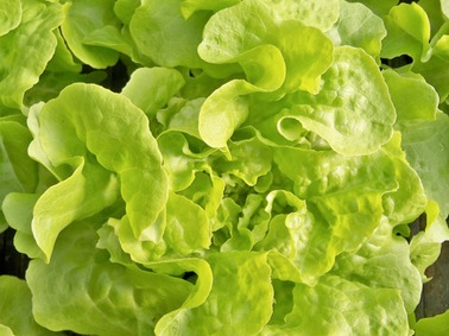 Fresh Lettuce at HighCross Farm
The 2018 FreedomShare™
A Completely Free Choice CSA Share
"We look forward to picking up our box on Thursday 
- it's like opening a present!
I can't believe how wonderful all your produce is visually 
and how great it tastes and keeps, since it's so fresh." - L.H. 

Certified Organic by MCIA
How it works:
1) Pay a one-time $30 subscription fee for the 2018 season.
Membership sign-ups after October 1 are reduced to $10
Membership sign-ups after November 1 are reduced to $5
Fast, easy sign-up - create your own online CSA account.
2) Review the colorful weekly email CSA newsletter.
Special sales, recipes, farm news, articles, photos and more.
3) Order from the online Web Store Friday Noon to Monday Noon  
You are free to choose anything, in any amount.
Or choose nothing at all for the week.
The only requirement is, if you order, your total must be $15 or more.
4) Free Delivery to your pick-up site on Thursday.
Your electronic payment will post automatically the day after delivery.
Become a member now of the 
HighCross Farm CSA Community

Important notice for returning HighCross Farm CSA Members: 
When prompted, please use your existing CSA Account email and password.  
If you have lost your password, you may reset it. 
If you log out of the system, you may need to wait 15 minutes before logging in again.
Choose secure payment for your subscription fee via the following methods: 
 - Electronic Check (this method is the most economical for HighCross Farm to process)
 - PayPal
 - Credit Card
 - Debit card
 - Note that the payment system is not set up to take paper checks; if that is your only option, please contact us and we will set up your account with a pre-payment credit balance 

The Recurring Payment method you use to pay your one-time $30 subscription fee
 will be the same payment method charged each week in which you put in an order.
You will be billed the exact amount of each order
automatically after Thursday's delivery,
 using the Recurring Payment method on file in your CSA account. 
You may easily change your Recurring Payment method at any time.

Use the button below to manage your 
FreedomShare CSA Member Account:

Refund Policy
You may easily cancel your subscription at any time. Although there are no cancellation fees,  refunds will not be provided for the cost of shares already delivered.
Privacy Policy
Note that your Privacy is important to us. Customer information is collected for the purpose of processing and delivering your share order. This information is kept confidential and is not shared. We will not sell or release your contact information to anyone for any reason ever.
Please contact us if you have any further questions.
The 2018 FreedomShare CSA Agreement
 The 2018 FreedomShare CSA member subscribers, and the farmers providing
 the 2018 FreedomShare CSA, agree to the following Terms:
Terms of 2018 HighCross Farm FreedomShare CSA:
The goal of this innovative Community Supported Agriculture Share is to maximize access to fresh local produce for the HighCross Farm CSA members, and to minimize production barriers for the HighCross Farm farmers. The members and the farmers form a mutually beneficial partnership in seeking a more organic model which offers increased personal choice and flexibility for both parties.
CSA Members Agreement: 
Members agree to pay a one-time subscription fee of $30 to HighCross Farm for the 2018 growing season.
Only members in good standing may order from the online FreedomShare Web Store. Members are free to choose anything, in any amount available. Members are completely free to order for the week, or to not order for the week. The only requirement is that each order must total $15 or more.
Electronic payment for each order will be charged automatically to the member payment method after the order is delivered. If the electronic payment fails, the member must correct the payment method and pay for the order immediately; member privileges will be suspended until the payment account is corrected and payments in arrears are received.
Members should contact HighCross farm ASAP if anything in their order is missing, incorrect, or unsatisfactory. HighCross Farm will credit your account, or replace with items of equal or greater value.
Members agree to review the weekly email CSA Newsletter.
Members agree to retrieve their labeled share box(es) from their pickup site on time, to follow specific site host pick-up instructions, and to take care of and return the empty box(es) for reuse each week (being careful to not tear the flaps, as described below at CSA FAQ).
Membership includes invitations to CSA member free workshops and CSA member gatherings at HighCross Farm.
Farmers Steve and Kath Agreement:
We agree to plant, harvest, and deliver a wide variety of Certified Organic fresh produce during the 2018 growing season. All produce grown at HighCross Farm will be distributed through our three farm Divisions: to FreedomShare CSA member subscribers through our online Web Store; to HighCrossOrganic wholesale accounts; and to The Kings Table charitable organizations.
CSA orders will be delivered at no charge to the 2018 FreedomShare pick-up sites.
We are committed to sustainable farming practices and environmental stewardship, as confirmed by annual inspection and Organic Certification by MCIA under the USDA National Organic Standards.
Farmers Steve and Kath make no promises or guarantees regarding the quantity, quality, or variety of produce made available for the 2018 season. Note that this is a beta CSA model which may require modifications during the course of the season. (See details on what to expect, below at the 2018 FreedomShare CSA FAQ.)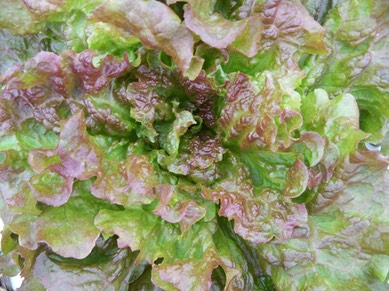 Red Lettuce at HighCross Farm
2018 FreedomShare CSA FAQ 

You may expect the same level of quality and service that many of you have come to know
 and appreciate from HighCross Farm throughout our 10 years of providing
 the finest in fresh premium organic produce CSA shares.
Web Store is now open for the season!
When does the CSA season start and end?
Starts when there are enough veggies ready to offer on the Web Store, and ends when not enough veggies remain.  
Typically, depending upon the weather and planting progress, it will start sometime in June; and end sometime after Thanksgiving.
What are the main differences between the FreedomShare and a more traditional CSA share?
More freedom for the CSA member—and for the farmer.
The FreedomShare CSA members are free to order according to what works best for their own household needs, one week at a time.
The farmers are free to plant, harvest, and prep what works best for their own farm strengths, and to manage for maximum efficiency, one week at a time.
This is a hybrid CSA model; it is more organic and more sustainable because it corresponds to what is actually happening on the farm from week to week. 
The most significant difference is that members are NOT signing up for automatic deliveries for a pre-determined number of weeks. Members are free each week to put together a customized order of individual items; or to order nothing. 
I am interested in receiving a traditional Share box without having to put in an order every week. Can I sign up just for that?
The FreedomShare CSA differs from traditional CSAs in that you must put in an order each week that you wish to receive produce; there are no automatic deliveries. 
If you are looking for guaranteed delivery of a Standardized Share box each and every week, then a traditional CSA farm will be a better choice for you.
On the other hand, we will be offering the most popular in-season produce as individual items (ala carte) each week throughout the season, for our CSA members to create their own customized share box. 
What can I expect in the way of prices and quality for FreedomShare individual items?
Our benchmark will be the typical prices at Milwaukee area retail natural food stores, for equivalent produce—local Wisconsin-grown, Certified Organic, premium quality—modified by our actual costs of production on the farm. Some items may be slightly higher, some will be lower.
What will always be the case is that our produce will be of the highest quality—you will find no finer quality or freshness at any food store, farmer's market, or CSA in SE Wisconsin. Your order will be custom-harvested, hand picked for you directly from our gardens. No caseloads of produce languishing in a distributer's warehouse, or in the back room of a food store, or pawed over by shoppers, or wilting in the sun at a farmer's market.
Your FreedomShare produce is harvested in the cool of the day, quickly moved in small batches to our climate-controlled walk-in coolers, prepped as necessary, and then delivered to your pick-up site. Cool, clean, and truly fresh! 
Where are the current pick-up sites located, and when are the CSA boxes delivered?
Deliveries are made mid afternoon to early evening, on Thursday.  
Delivery times are targeted times and may occasionally be delayed due to traffic or other unforeseen problems. These times and locations are subject to change.  
We are adding new sites when it becomes practical. Let us know if you would consider helping with delivery to an outlying location and/or hosting a pick-up site.  
Boxes should be picked up within the time slot for optimal freshness, and to make it easier for our pick-up site hosts.
Please instruct anyone picking up your order to be careful to take the correct box; each box is labeled with name of the FreedomShare CSA recipient. Check your name off the check-off sheet provided.
Pick-up locations and target delivery times: 
HighCross Farm - W2292 Rustic Dr. - 4:00 PM to 9:00 PM
Bayview - 1807 E. Morgan Avenue - 5:30 PM to 7:30 PM

Brookfield SE - 14455 Woodridge Circle - 5:00 PM to 8:00PM

Colgate - 108 Linda Lane - 6:00 PM to 8:00 PM

Fond du Lac - N7072 Van Dyne Road - 4:00 PM to 8:00 PM
Grafton - 1750 12th Ave - 4:00 PM to 8:00 PM

Greendale - 5822 Riverside Drive - 6:00 PM to 8:00 PM 

Kewaskum - 1121 Fond du Lac Avenue - 4:00 PM to 8:00 PM
Menomonee Falls North - N88 W17545 Christman Road - 4:00 PM to 7:00 PM
Menomonee Falls South - N52 W17154 Ridgewood Drive - 4:30 PM to 7:00 PM
Mequon - 3329 Riviera Court - 4:00 PM to 7:00 PM

Milwaukee East - 1920 E. Newberry Blvd. - 4:30 PM to 7:30 PM
New Berlin - 16460 Melody Court - 5:00 PM to 8:00 PM
Shorewood - 4448 N. Woodruff Avenue - 4:00 PM to 7:00 PM
Waukesha - 1816 Wolf Road - 5:30 PM to 7:00 PM
Wauwatosa - 2407 N. 93 Street - 4:30 PM to 7:00 PM

West Bend - 300 Ryan Court - 4:00 PM to 7:00 PM

Whitefish Bay/Glendale - 5425 N. Navajo - 4:00 PM to 8:00 PM

Possible future pick-up sites:
Fond du Lac County - Oakfield and Eden
Dodge County - Ashippun, Horicon, Theresa, Lomira, Iron Ridge, and Mayville
Jefferson County - Watertown
Milwaukee County - Lower East Side and Third Ward
Ozaukee County - Cedarburg and Port Washington
Sheboygan County - Random Lake
Washington County - Jackson, Slinger, Germantown, Hartford, and Allenton
Waukesha County - Delafield, Hartland, Pewaukee, Oconomowoc, and North Lake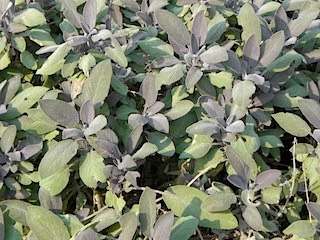 Culinary Sage at HighCross Farm
What types of produce will be available on the Web Store and when?
Please refer to the list of produce below. 
The variety of produce changes as the season progresses.  Some crops grow best in cool weather, while others grow best when it is hot; therefore some of the early crops will drop off for the summer but will be back again in the fall. Fresh culinary herbs will be available often.
The first crops to ripen include spinach, radishes, green onions, baby beets, lettuce, arugula, and other salad ingredients.  We try to have lettuce available every week, weather permitting. There may also be rhubarb and wild ramps available.
During July, there will also be carrots, green beans, cabbage, kale, kohlrabi, zucchini, sweet onions, swiss chard, and various Asian greens for stir fry and salads.
In August, there will also be new red potatoes, tomatoes, sweet and hot peppers, and cucumbers.
In September there will also be muskmelon and watermelon, eggplant, and the first of the winter squash.
In October, there will also be brussels sprouts, turnips, rutabaga, and parsnips; also a return of spinach.
And interspersed throughout the season, we will be including some new and unusual items to broaden your palate.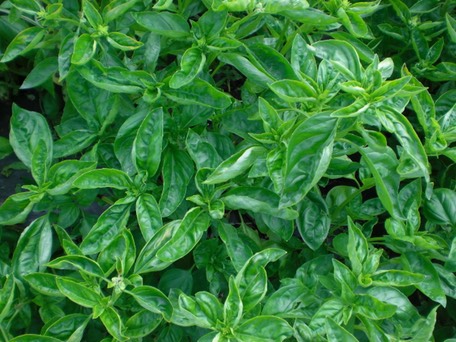 Italian Basil at HighCross Farm
List of crops planned for the 2018 growing season:
Apples
Arugula
Basil - Italian, Lemon, Purple
Beans - Green Snap, Yellow Wax, Italian Romano
Beets - Red, Golden, White, Chioggia, Bulls Blood
Broccoli - Head & Leaf type
Cabbage - Green, Red, Savoy, Conehead, Sauerkraut type
Cauliflower - White, Cheddar, Purple, Green
Carrots - Orange, Rainbow, White Satin, Purple
Chinese Cabbage
Chives & Garlic Chives
Cilantro
Collards
Cucumbers - Slicing, Asian, Pickles
Eggplant - Italian Purple, Oriental, Rose Bianca & more
Fresh Culinary Herbs - Sage, Thyme, Lemon Balm, Summer Savory, Rosemary, Marjoram, Lavender, Chervil, Lemon Grass, Lemon Verbena, Stevia, Lovage, Mint & more
Garlic
Greens - including Asian types
Kale - Curly, Red Russian, White Russian, Lacinato, Siberian, Scarlet
Kohlrabi - Green & Purple
Lettuce - Green & Red Leaf, Butterhead, Romaine, Oakleaf, Summercrisp
Melons - Muskmelon & Honeydew
Onions - Red & Yellow, Cipollinis, Shallots, Leeks
Pac Choi
Parsley - Curly & Italian Flat Leaf
Parsnips
Peppers - Sweets & Hots in Green, Red, Yellow
Pie Pumpkin
Potatoes - 12 varieties
Radishes
Rhubarb
Spinach
Sugar Snap Peas
Snow Peas
Summer Squash - Green & Golden Zucchini, Zephyr, Romanesco, Patty Pans
Sweet Potatoes

Swiss Chard - White & Rainbow
Tomatoes - Red and Golden Cherry, Slicing, Roma, & Heirlooms
Turnips - Salad & Rutabega
Watermelon - Red & Yellow, Seeded & Seedless
Winter Squash - Acorn, Buttercup, Butternut, Delicata, Spaghetti, Kabocha, Hubbard, Heirlooms & more
We may add a few more items to this list. Please keep in mind that some of these items will not be ready for harvest until later in the season.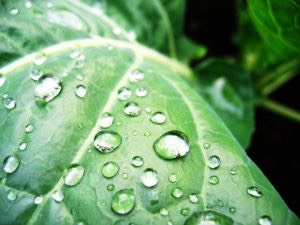 Serving our customers with excellence is our highest business goal.  We put a lot of heart into our work and products.
We deliver weekly deliveries on Thursdays into the following counties:  Fond du Lac, Milwaukee, Ozaukee, Washington, and Waukesha.  Let us know if you would like to join our distribution team by hosting a drop-off site and/or helping with delivery to an outlying site.
Each week we supply an assortment of in-season produce, heavy on the favorites, including delicious heirlooms and tender varieties not found in food stores—plus the occasional unusual or exotic item to shake up your palate. 
Our produce is grown in planting beds which are enriched with compost and organic amendments; the plants are neatly mulched and well-watered, resulting in a clean, healthy, robust plant. We select only the best from each crop for harvest, carefully wash, and gently pack them. Your Thursday evening salad will contain items which were still growing just hours beforehand. You cannot get any fresher than that—it's like having your own backyard garden, but without all the hard work.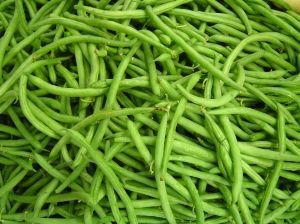 "We are truly enjoying our produce! 
The grandkids help unpack the box 
every week with great excitement, 
taking a bite out of every veggie that we get." - C.H.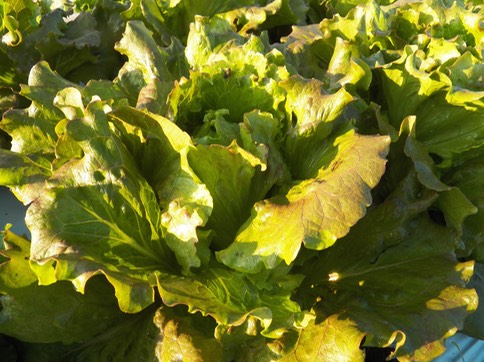 Red Summercrisp lettuce at HighCross Farm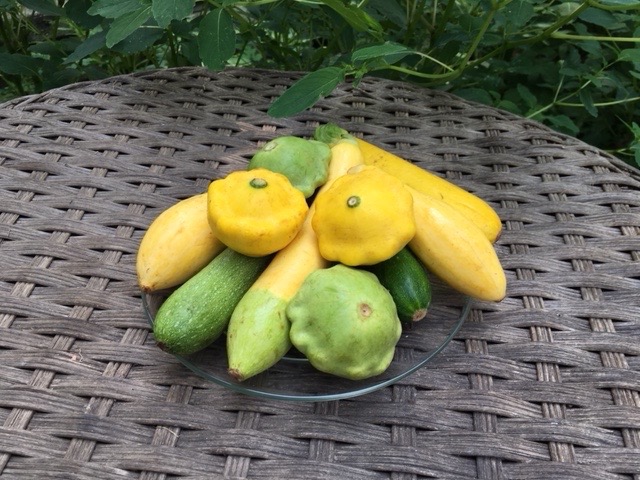 Miniature Gourmet Summer Squash at HighCross Farm