We offer prime Shetland wool fleece, both raw and washed, and roving for handspinning.  
Also sheepskins to keep you warm in a wide variety of natural colors.  
Please contact us for more details.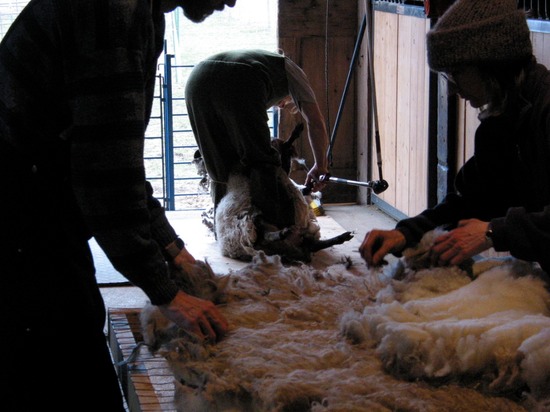 Prime quality sheepskins are available from our flock of purebred Shetland sheep.
Plush, luxurious, naturally-colored wool from this heritage breed of sheep.
We are happy to send you higher resolution photos of these sheepskins.  
Satisfaction guaranteed or your money back.
We accept payment by check in the mail, PayPal, or credit card or electronic bank check processed by PayPal.
Your sheepskin will be mailed via Priority Mail within 24 hours of ordering. A $10 shipping and handling fee will be added at check-out (or add $10 to the amount due if paying with a check). 
Please enter the amount due into the Item Price box and the Item number (#) of the sheepskin into the "Special Instructions to the Seller" box.
The following Shetland sheepskins are currently for sale:
#1 This sheepskin measures approximately 32 x 26 inches. $110.  Sorry, SOLD.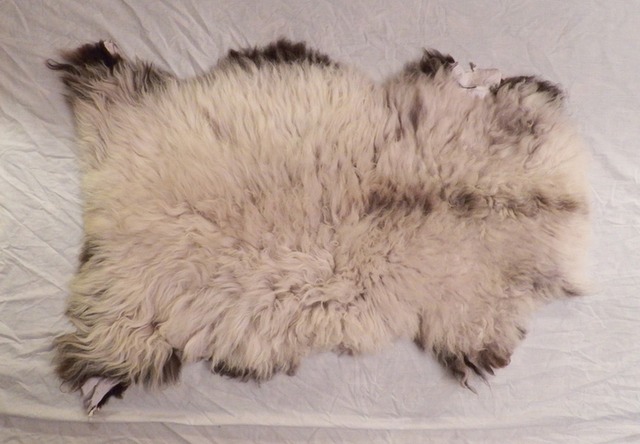 #4 This sheepskin measures approximately 35 x 22 inches. $90. Sorry, SOLD.
Washing Instructions for Sheepskins
1. Rinse with cold water to wet the sheepskin.
2. Wash with liquid Ivory soap in warm water on GENTLE cycle for only 3 minutes. Longer washing time felts the wool.
3. Rinse in warm water TWICE with no agitation. Allow to go through the spin cycles.
4. Allow to air dry. Sheepskins can be blocked (pulled on) while drying to keep their shape and softness. Use a hairbrush to fluff the wool after drying if needed, or BRIEFLY tumble in NO HEAT dryer to fluff the wool.
NOTE* While HighCross Farm has had good results with this method, we do not guarantee your results. Use caution laundering sheepskins. Dry cleaning is always a viable option.